Dhanna (ダーナ) is a midfielder of Protocol Omega 3.0 and El Dorado Team 01.
Appearance
Edit
Dhanna has smooth, mostly straight black hair and yellow-golden eyes. She has a pale skin tone and wears the standard Protocol Omega uniform.
France Era
Edit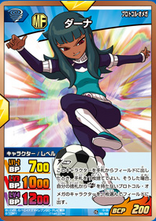 She first appears in
Episode 18
, where she becomes a new member for
Protocol Omega 3.0
, replacing
Neira
. She was later beaten, along with her teammates, by
Zanark Abalonic
, a S-Rank criminal who had escape from the Eternal Prision. She was later
Mix Maxed
with his energy, being in the process, put under his command.
In Episode 21, after receiving a pass from Orca, she was quickly surrounded by Kirino and Shindou. However, as Kirino was still jealous about Shindou's new powers, she easily dribbled passed him and made a pass to Bahamusu, but it was intercepted by Kinako. Later, Dhanna uses her hissatsu, Defense Command 03, to steal the ball from Kirino and it succeded.
Ragnarok Tournament
Edit
In
Episode 39
, she reappeared along with some of the other Protocol Omega players. She became a member of
El Dorado Team 01
. She used
Shoot Command 06
but, it failed against
Shin God Hand X
.
In Episode 40, she told Tsurugi that she was not going to listen to him just because he was captain and ignored his order to pass to Ward.
Recruitment
Edit
To recruit Dhanna, you first need to complete te story mode. Also, you'll need to have:
Topic: Beautiful Night Sky
Player: Galling
Player: Aisha
After this, she can be recruited for 6000 Kizuna Points.
At Lvl. 99
GP: 139
TP: 153
Kick: 114
Dribbling: 180
Block: 90
Catch: 100
Technique: 113
Speed: 116
Stamina: 131
Lucky: 104
Best Match Mixi Max
Edit
Game Exclusive Teams
Edit
Ad blocker interference detected!
Wikia is a free-to-use site that makes money from advertising. We have a modified experience for viewers using ad blockers

Wikia is not accessible if you've made further modifications. Remove the custom ad blocker rule(s) and the page will load as expected.