Double Shot
Data
JP name
ダブルショット
Dub name
None
Type
Shoot
Element
Void
Characteristic
Long Shoot
Users
1
Evolution
Normal → V2 → V3 → V4 → Z
TP Consumtion
Chrono Stone
50
GO Strikers 2013
40
90 (Armed)
Debut
Game
Inazuma Eleven GO Chrono Stone
Anime
Episode 006
Double Shot (ダブルショット), also known as Shoot Command 07 (シュートコマ ンド07, Shyuuto Komando 07), is a shoot hissatsu.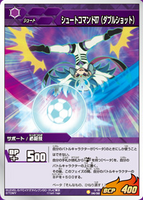 It was used by
Beta
in
Episode 6
in the first match between
Raimon
and
Protocol Omega 2.0
and scored the eleventh goal to
Protocol Omega 2.0
, breaking through most of Raimon's Keshin. However, it was only the third made against Raimon.
It was used again by Beta in Episode 10 and Episode 11. It scored the second and third goal for Protocol Omega 2.0.
It was used again in Episode 16 and broke through Shinsuke's Keshin Armed and scored the second goal for Protocol Omega 2.0.
Slideshow
Edit
On the official site, this hissatsu is called Double Shot, making people think the hissatsu is called this way in the game. But, recently, the first trailer of the Chrono Stone game shows this hissatsu is called Shoot Command 07 in the game and not Double Shot.
After Beta says "Shoot Command 07", the voice says "Double Shot".
Ad blocker interference detected!
Wikia is a free-to-use site that makes money from advertising. We have a modified experience for viewers using ad blockers

Wikia is not accessible if you've made further modifications. Remove the custom ad blocker rule(s) and the page will load as expected.