最後のサッカー
Last Soccer
Episode Data
Episode #
004
Airing
Japan
2012/05/09
Navigation
Previous
Episode 003
Next
Episode 005
Last Soccer (最後のサッカー, Saigo no Sakkaa) is the 4th episode of the Inazuma Eleven GO Chrono Stone series.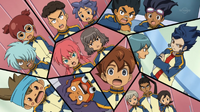 Another match starts against
Protocol Omega
to return Tsurugi Kyousuke to play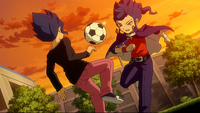 soccer. They succeed, but
Tenma
has to say farewell to the alternate Yuuichi. Even though they succeed, it is short lived as soccer is suddenly banned.
Major Events
Edit
Hissatsu/Keshin Used
Edit
Mixi Max/Keshin Armed Used
Edit
Keshin Armed
Edit
[Tsurugi Yuuichi] If that is my true destiny, then I accept it and I will conquer it!
Ad blocker interference detected!
Wikia is a free-to-use site that makes money from advertising. We have a modified experience for viewers using ad blockers

Wikia is not accessible if you've made further modifications. Remove the custom ad blocker rule(s) and the page will load as expected.