Fire Tornado TC (ファイアトルネード TC, Faaia Tornedo Toriparu Curashar, lit Fire Tornado Triple Crusher) is a combination shoot hissatsu.
Crossover Movie
Edit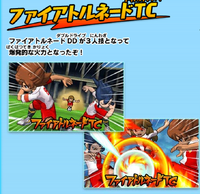 It first and only appeared in the crossover movie in the match of
Shinsei Inazuma Japan
and
Destructchers
. The move was used by
Matsukaze Tenma
,
Tsurugi Kyousuke
and
Nanobana Kinako
and they succeeded in scoring the first goal for their team, breaking through
Lotus
'
Destiny Cloud
.
Ad blocker interference detected!
Wikia is a free-to-use site that makes money from advertising. We have a modified experience for viewers using ad blockers

Wikia is not accessible if you've made further modifications. Remove the custom ad blocker rule(s) and the page will load as expected.